Secure QR Code Reader
Introduction
QR Code currently present on Aadhaar print-letter and e-Aadhaar contains only the demographic information of the Aadhaar holder. UIDAI is replacing the existing one with a new Secure QR Code which will now contain demographics as well as photograph of the Aadhaar holder. Information in QR Code will be made secure and tamper-proof by signing it with UIDAI digital signature.
The new digitally signed QR code can be read ONLY using UIDAI's windows based Custom client for desktops/laptops and validate it against UIDAI digital signatures on real time. Therefore, any fraud attempted on e-Aadhaar can be easily detected by using QR Code scanner.
Application can be downloaded from here. Moreover, a good quality STQC certified QR Code scanner will be required. Public Certificate for validating the digital signature can be downloaded from here.
Important : It is recommended to print e-Aadhaar having this secure QR code using LaserJet printer only.
How to use QR Code/Offline XML Reader ?
Post installation of UIDAI's QR code/Offline XML reader application, secure QR code of e-Aadhaar need to be scanned using the physical scanner in line with UIDAI Specifications. The application will display the demographic details of resident once the QR Code of e-Aadhaar is digitally verified by UIDAI at backend and give scan QR Code verified. In case the digital signature is not verified the reader displays QR Code not verified GUI Screen.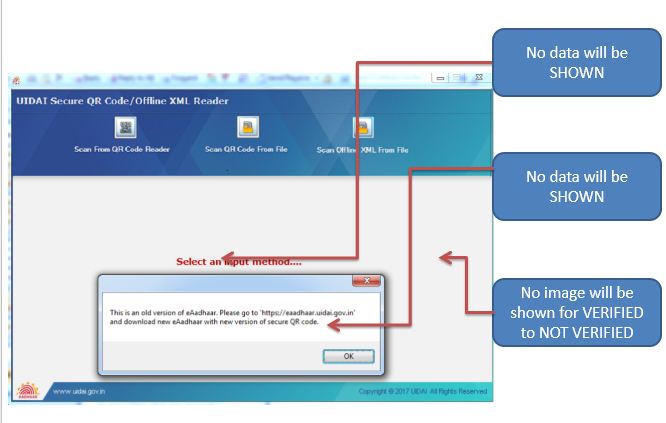 Who all can use secure QR code of e-Aadhaar?
Anyone, whether a Aadhaar Holder or an User/Service Agencies like Banks, AUAs, KUAs etc can use this facility for offline verification of the data in Aadhaar or e-Aadhaar.
Steps to Verify Aadhaar Using Secure QR Code/Offline XML Reader
UIDAI Secure QR Code/Offline XML - Windows Client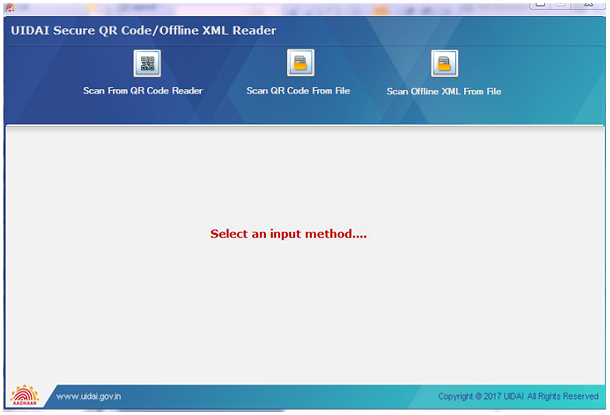 UIDAI Secure QR Code/Offline XML - Windows Client (Old Versions of QR Code)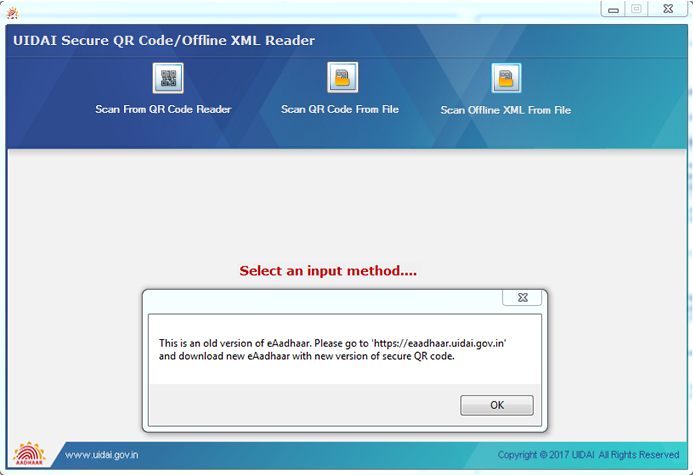 UIDAI Secure QR Code/Offline XML - Windows Client (with Demographics only)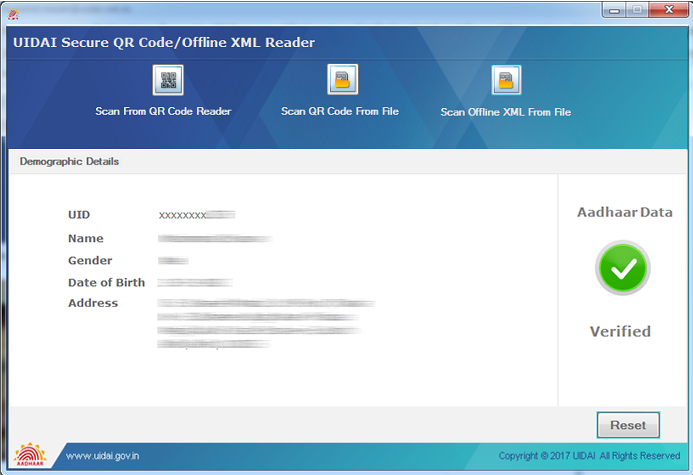 UIDAI Secure QR Code/Offline XML - Windows Client (with Photograph and Demographics)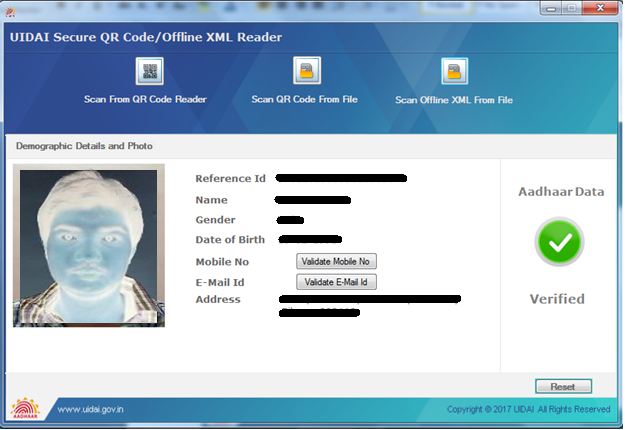 UIDAI Secure QR Code/Offline XML - Windows Client (Enter your registered Mobile Number)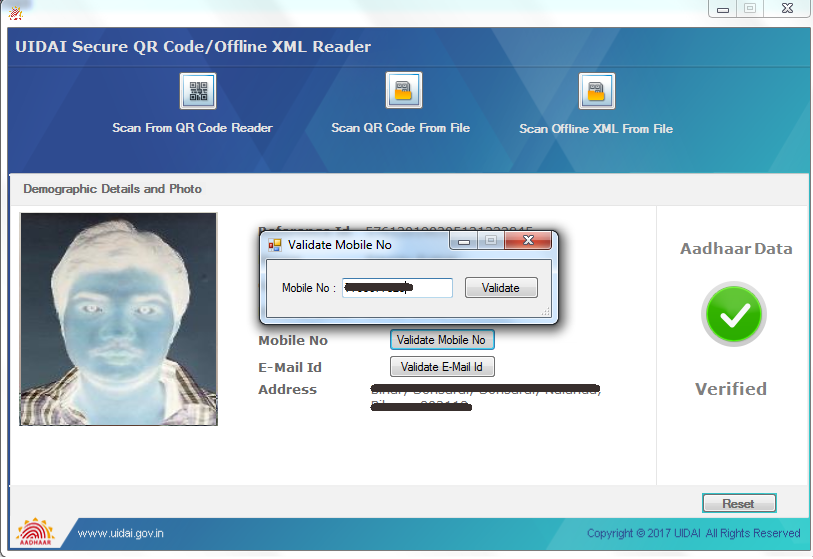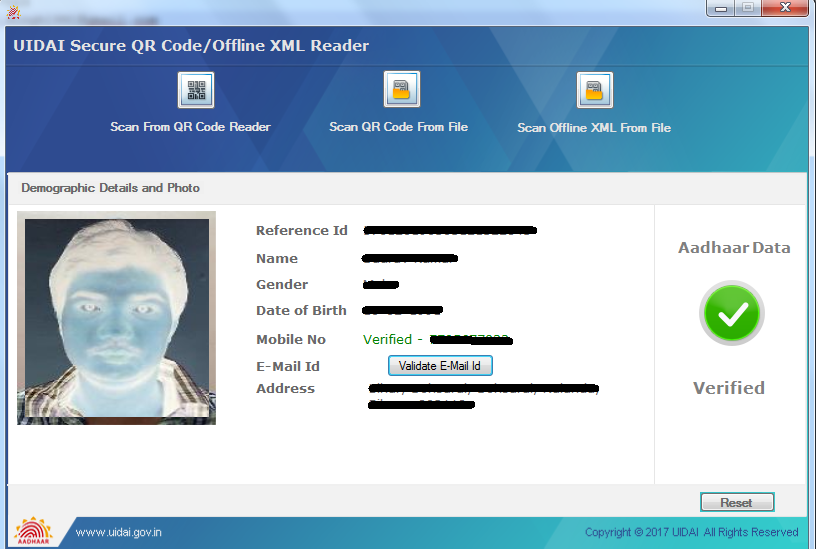 UIDAI Secure QR Code/Offline XML - Windows Client (Enter your registered Email ID)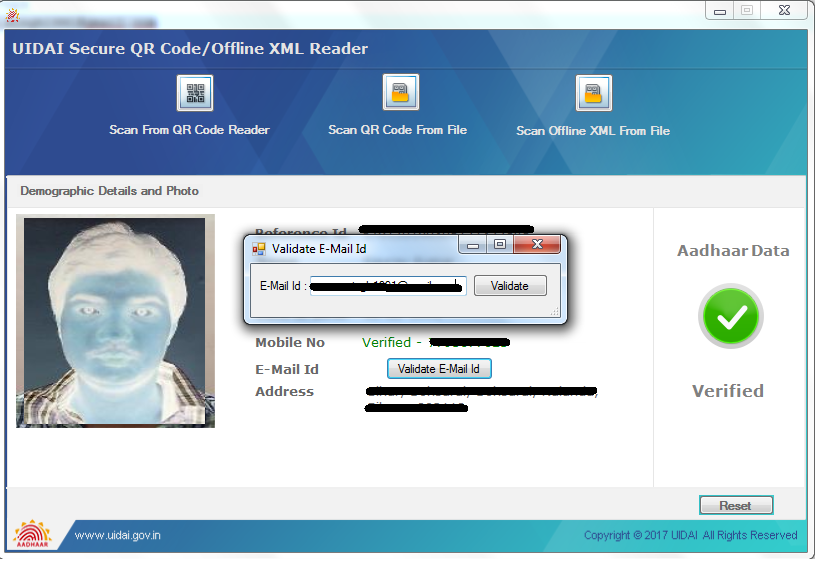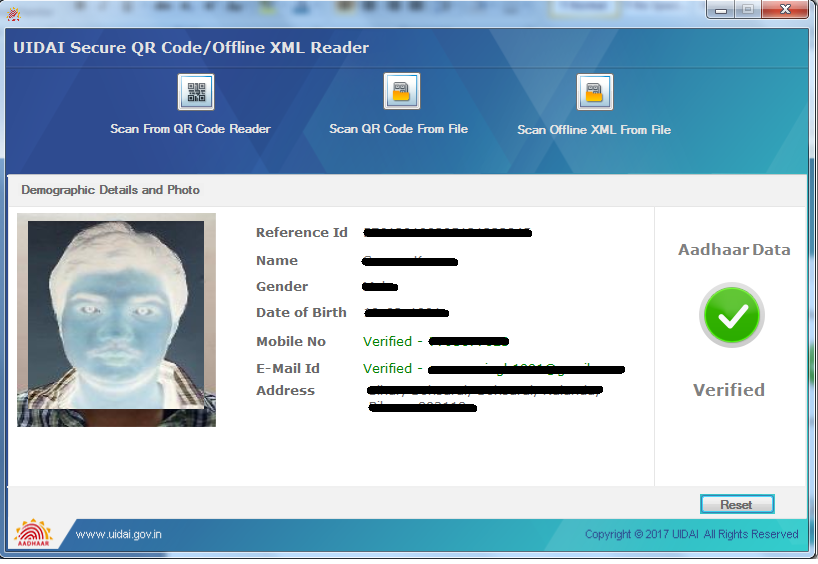 Click here for Secure QR code specification. For any queries / concern please call 1947 or drop email at This email address is being protected from spambots. You need JavaScript enabled to view it.